" Everyone Wants A Pond "
You Just Don't Know It Yet !
​Most people think of outdoor grills and patio furniture when they think of outdoor living spaces. Once the outdoor meal is over, what more is there to do in your backyard? While many homeowners turn to pools or hot tubs, they're discouraged by the amount of maintenance and chemicals required with these amenities. Natural Ecosystem Ponds give your outdoor space that extra sensory experience that evokes a calm relaxing environment for you and your guests. It also allows you to view fish and wildlife that is attracted to your piece of paradise!
A fish pond or Water Garden as it is sometimes referred to is made up of many different parts and when those parts are assembled together correctly by a professional builder/installer, they form a beautiful and naturalistic work of art that changes personality with the time of day, the change of the seasons, and the moods of mother nature to enhance your home or business in the Youngsville NC surrounding areas..
Pond Ecosystems Bring Your Backyard Landscape To Life...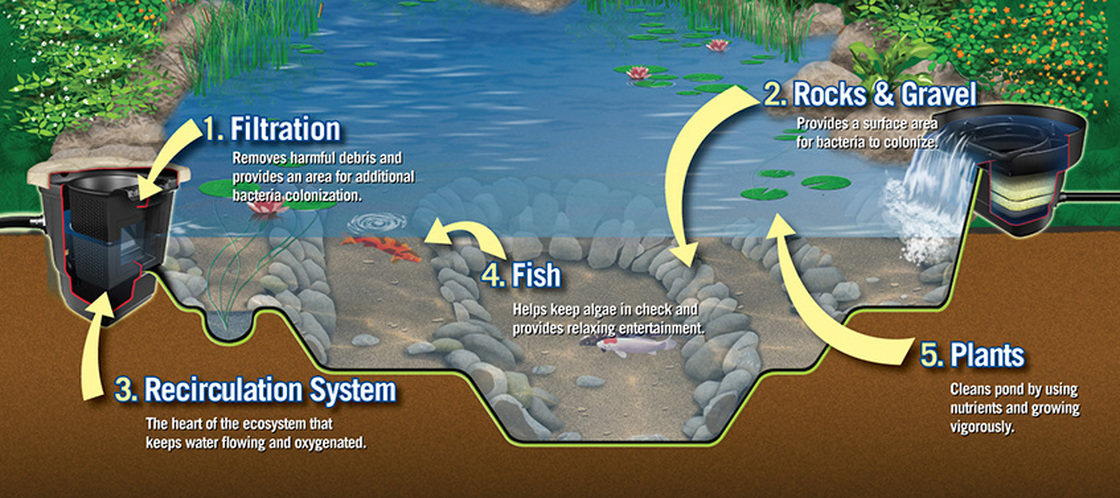 We Install Only The Aquascape Ecosystem
Ponds are ecosystems, in that they play host to a total interrelationship of all organisms in the environment– birds, fish, frogs, plants, and many microscopic organisms. Thus, ponds not only create a natural ecosystem in their defined environment, but they also fit into the community or life cycle of not just one homeowner's back yard, but of the entire ecological region. Ecosystem pond works with Mother Nature to provide food, shelter, and safety to the wildlife around it. It also provides you with an all-natural, low-maintenance piece of paradise.