welcome
Welcome To Springer Ponds & Water Gardens
Springer Ponds and Water gardens is a C0-owned and operated pond company located in Youngsville, North Carolina. Saundra Springer, the initial owner, has been designing and installing water features for over 13 years. She is passionate about creating beautiful custom ponds. Working and learning from some of the best in the industry, she continues to develop new skills and techniques to bring the highest level of technology and functionality to her customers.
Saundra's Co-Owner, Andrew Murphy, has been working in this industry for over 10 years.  His passion and commitment to his customers, his creations, co-workers, family and friends is without question the most honorable I've known.  We are proud and privileged to have Andrew on our team.
Springer Ponds main focus is on how the water feature integrates into the landscape and into the family. The design process starts with how the feature will be used and who it will be used by. Can it be seen and heard from inside the house, or more importantly the space in which the family "lives". Having a feature you can enjoy with multiple senses, from several living spaces, only gives you more for your investment. Creating a space that becomes a part of you and your family's daily lives is truly what motivates our designs.
Professional Services & Installations
An Ecosystem Backyard Pond works with Mother Nature to provide food, shelter, and safety to the birds & wildlife that visit your landscape.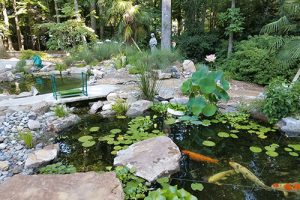 A Pondless® Waterfall is simply a re-circulating disappearing waterfall and/or stream without the presence or safety concerns of a pond.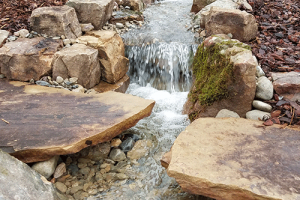 Fountainscapes are small decorative landscape fountains such as bubbling urns, self contained patio fountains and bubbling rocks.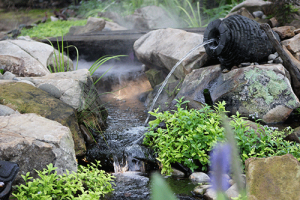 Think It's Too Expensive To Hire A Professional
Wait Until You Hire An Amateur !
Springer Ponds is a full service pond company that can create and install new ponds, pondless and fountainscapes. They also troubleshoot leaks, perform repairs, renovate, service and maintain water features. Springer Ponds is enthusiastic about the industry and their craft. Living the pond lifestyle is truly a special way of living that isn't only reserved for the famous. What would it take to create your own little special stay-cation spot? Hit the link below and send a photo for the answer.
What People Say
Three years ago we knew we wanted a water feature but we weren't exactly sure where we wanted it or what we wanted it to look like. Saundra picked the perfect location and designed a unique waterfall and pond that we are very happy with. She continues to help us maintain it, we highly recommend her services.
Saundra is easy to work with and is very knowledgeable about ponds, fish, and plants. There is nothing better than sitting on our porch listening to the waterfalls and watching our fish. I can't thank you enough for the paradise you created for us.
Saundra and her team were referred to us by a friend who had a pond built for them. Once we met with her we were impressed with her knowledge and especially her passion. When she first started the pump to the waterfall, we were blown away with excitement. She certainly exceeded our expectation!
Central North Carolina's Pond Design, Installation, Repair & Maintenance Specialists
919.818.0290