about us
`` We build Lifestyles``
As a pre-qualified certified contractor based in Youngsville, NC. we are trained and educated to install beautiful low-maintenance water features. More importantly we focus on quality workmanship, outstanding customer service, and knowledgeable advice for all of your Youngsville, Wake Forest, Raleigh, NC surrounding area water feature needs. Our motto is "Ponds Done Right. Customers Served Right." Holding the Aquascape Certification means we know how to install a pond that is specified properly, that will function for many years and will look like mother nature put it in your yard.
We are focused 100% on water gardening and our customers' needs are of the utmost importance. Our team is committed to meeting those needs, and as a result, a high percentage of our business is from repeat customers and referrals. Saundra Springer, owner/operator, has been affiliated with Aquascape Inc. for many years and has maintained being a Certified Aquascape Contractor. ( CAC ) With over 10+ years of experience in design and installation.
Springer Ponds offers a full annual or customized maintenance program as well as pond repair service, and professional pond cleanings for all your water features' needs. We welcome the opportunity to earn your trust and deliver you the best product and service in the area. Feel free to contact us directly at 919.818.0290
Our Pond Family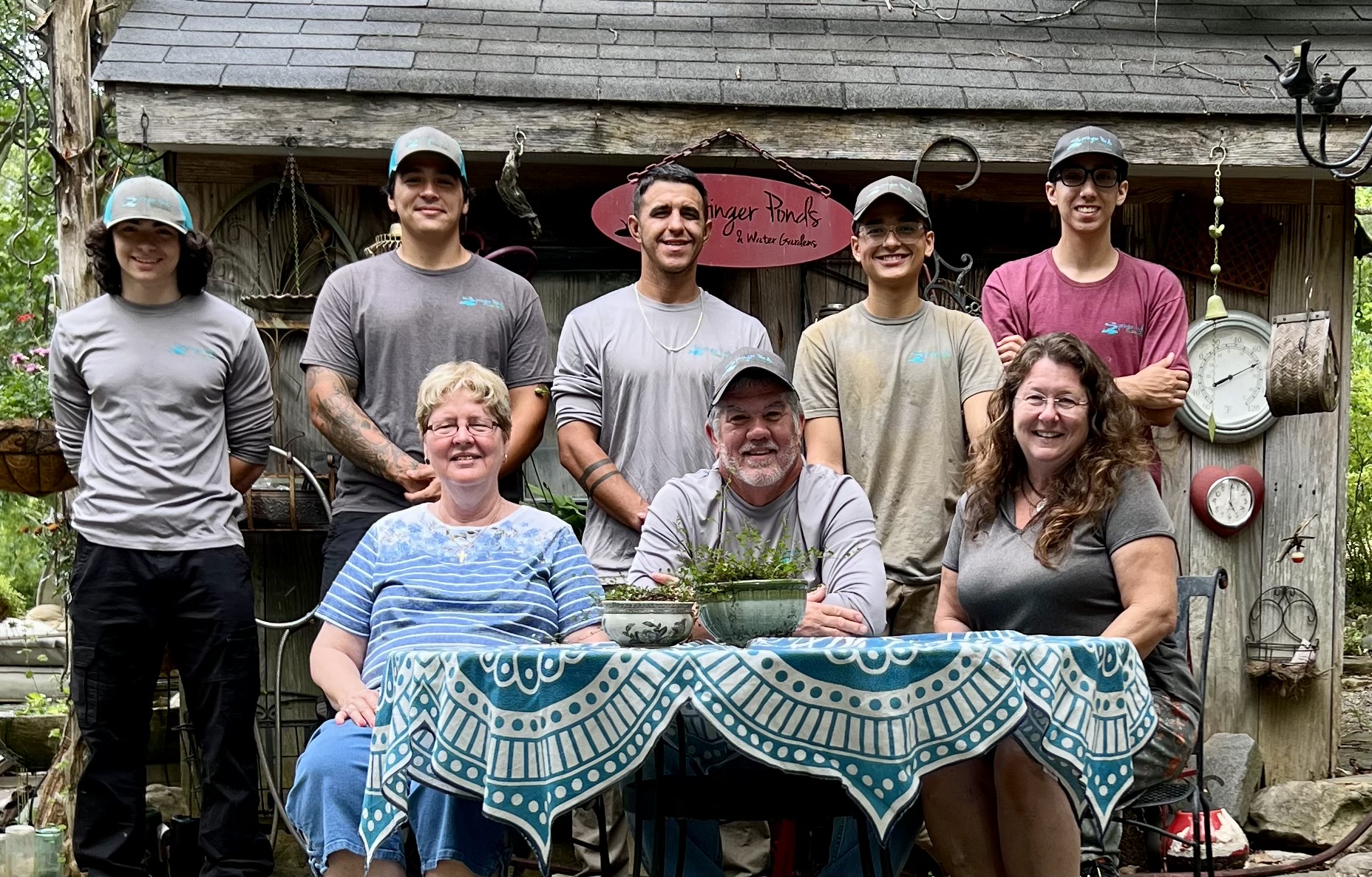 of Springer Ponds
Pictured left to right starting in the front:
Mrs. Faye (office manager Extraordinaire), Jerry, & Saundra
Back Row:  Jaden, Corey, Andrew, Daniel and Tom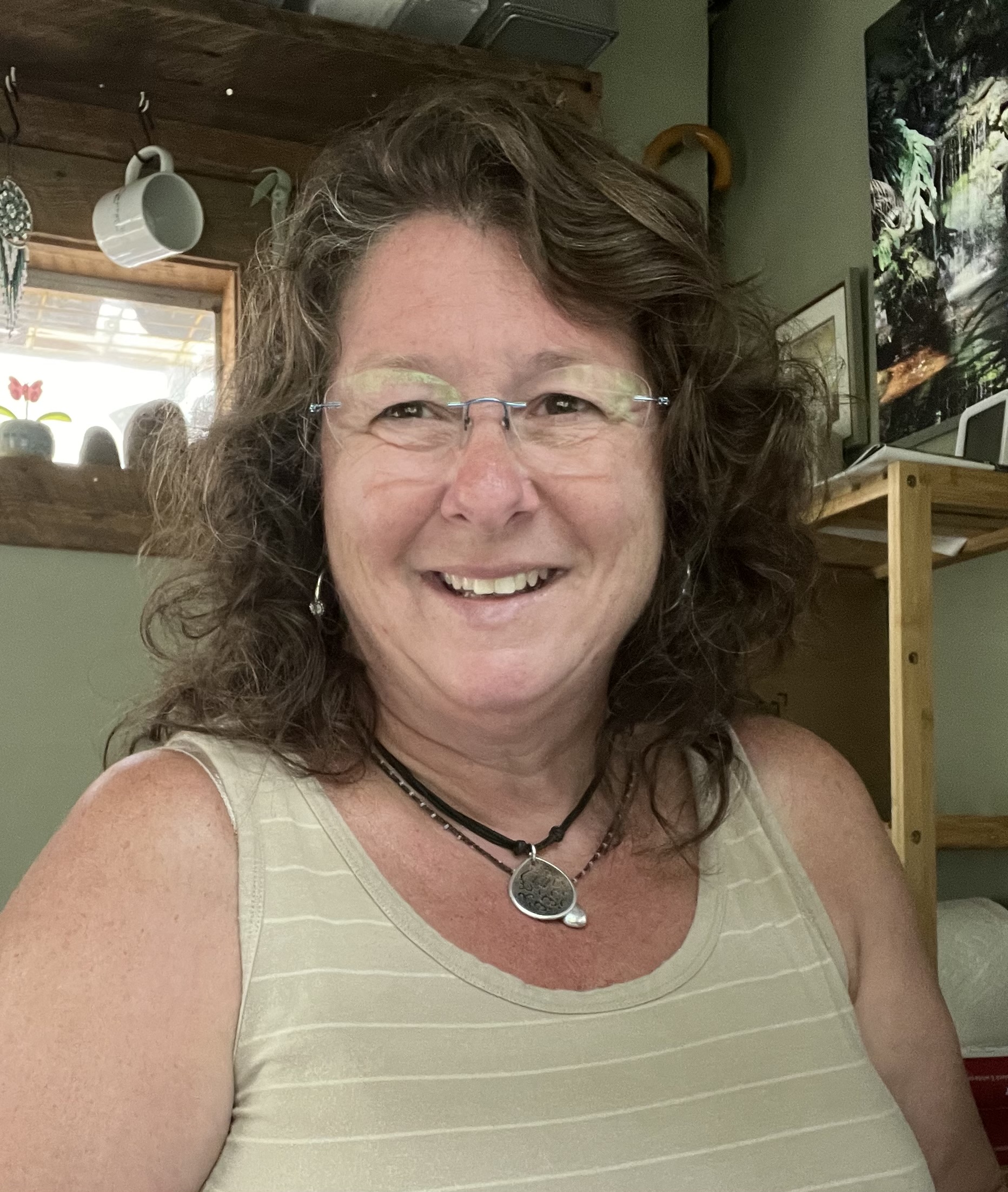 Saundra is a wife, mother, sister, daughter, business Co-Owner and foremost a child of God.  The Springer Ponds Family is just that, they are family. We see every day as a gift.  With the ability to grow and enhance her life and those around her, Saundra strives to further educate herself and her staff at every chance. Taking every opportunity possible to enrich other lives, by installing one water feature at a time.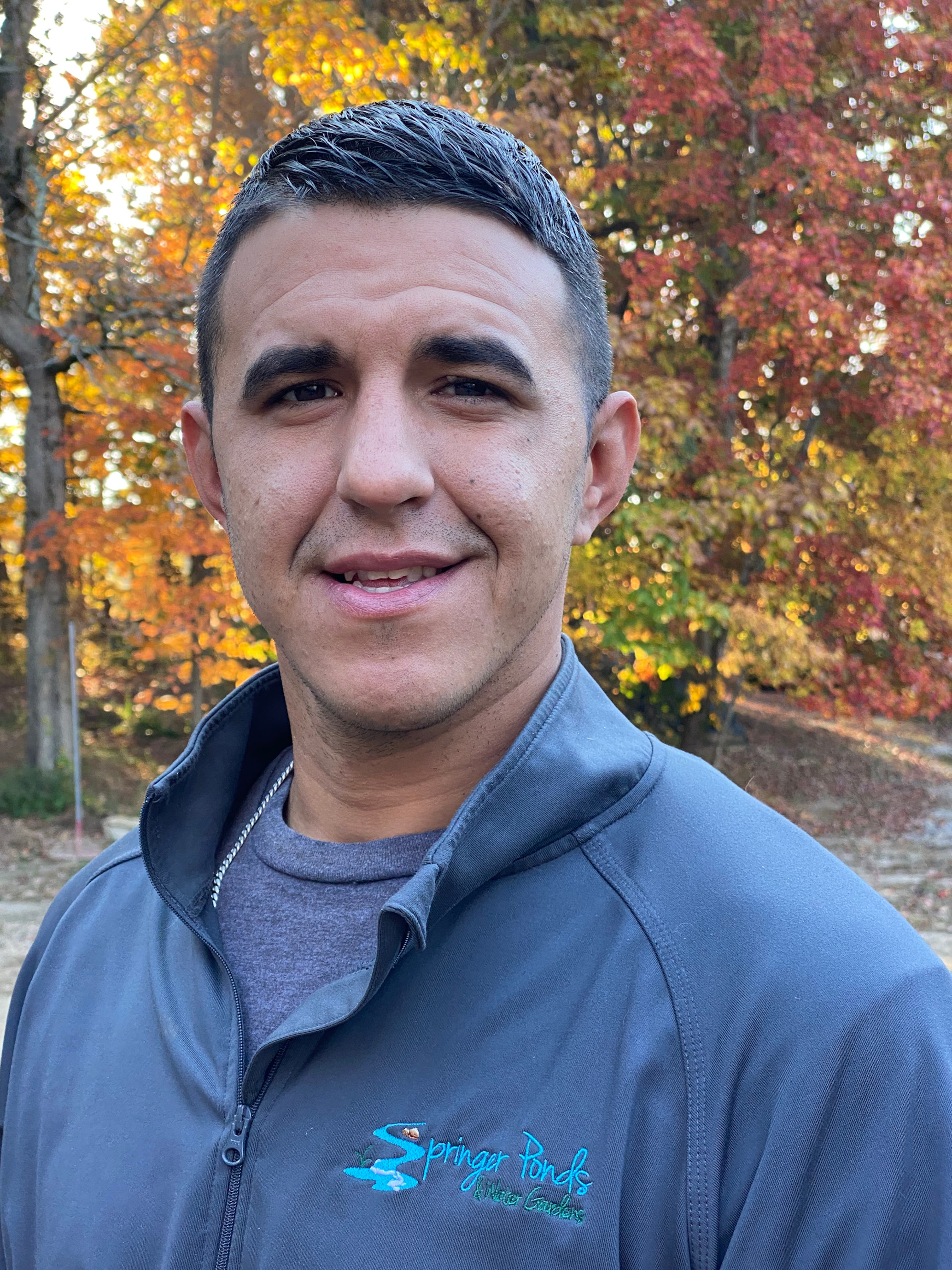 As Co-Owner of Springer Ponds & Water Gardens, Andrew has become an invaluable asset to this company.  In the field, Andrew still wears the title as Foreman Extraordinaire, and he continues to work closely with Saundra, the crew and the home owners, to deliver that 'vision', by turning their blank canvas into a little bit of magic. Andrew lives for that moment when a water feature is turned on for the very first time. Not just to watch the water flow over his masterful reproduction of a natural waterfall, but rather to capture the clients excitement. His anticipation of that moment motivates him thruought the entire build.
Andrew began working in water gardens in 2013 and he quickly fell in love with the idea of creating a unique one of a kind feature, one that would allow the owners to fully enjoy the Lifestyle.
Andrew continues to learn as much as he can about ecosystems, new techniques and the latest products. By working side by side with other professionals in the industry and attending industry conferences and training Andrew continues to fine tune his skills and perfect his craft.
Andrew has a beautiful wife and son at home, we welcome them all into the Springer Ponds Family!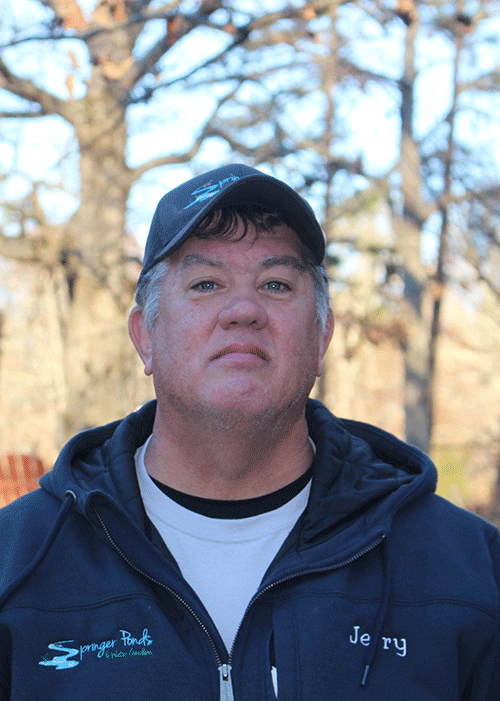 Jerry Winstead started working with Springer Ponds in April of 2016, but it seems like every job he has had previously has been preparing him for this one. Finding a man with solid work ethics, integrity, reliability sincerity and a desire to serve others is like hitting the lottery. That is exactly what Saundra says it felt like for her. The most important part of Springer Ponds is its customers, having someone like Jerry to care for them during monthly service is paramount.
Jerry is meticulous in his tasks and strives to provide the best service possible.  Often you will find Jerry with Tom, our Water Garden Maintenance Technician.  The two make a dynamic duo!
Jerry is just another wonderful cog in this all star team and he continues to get training in all aspects of water gardens.  The most sincere smile.  And if you are ever lucky enough to hear him sing, I strongly recommend it.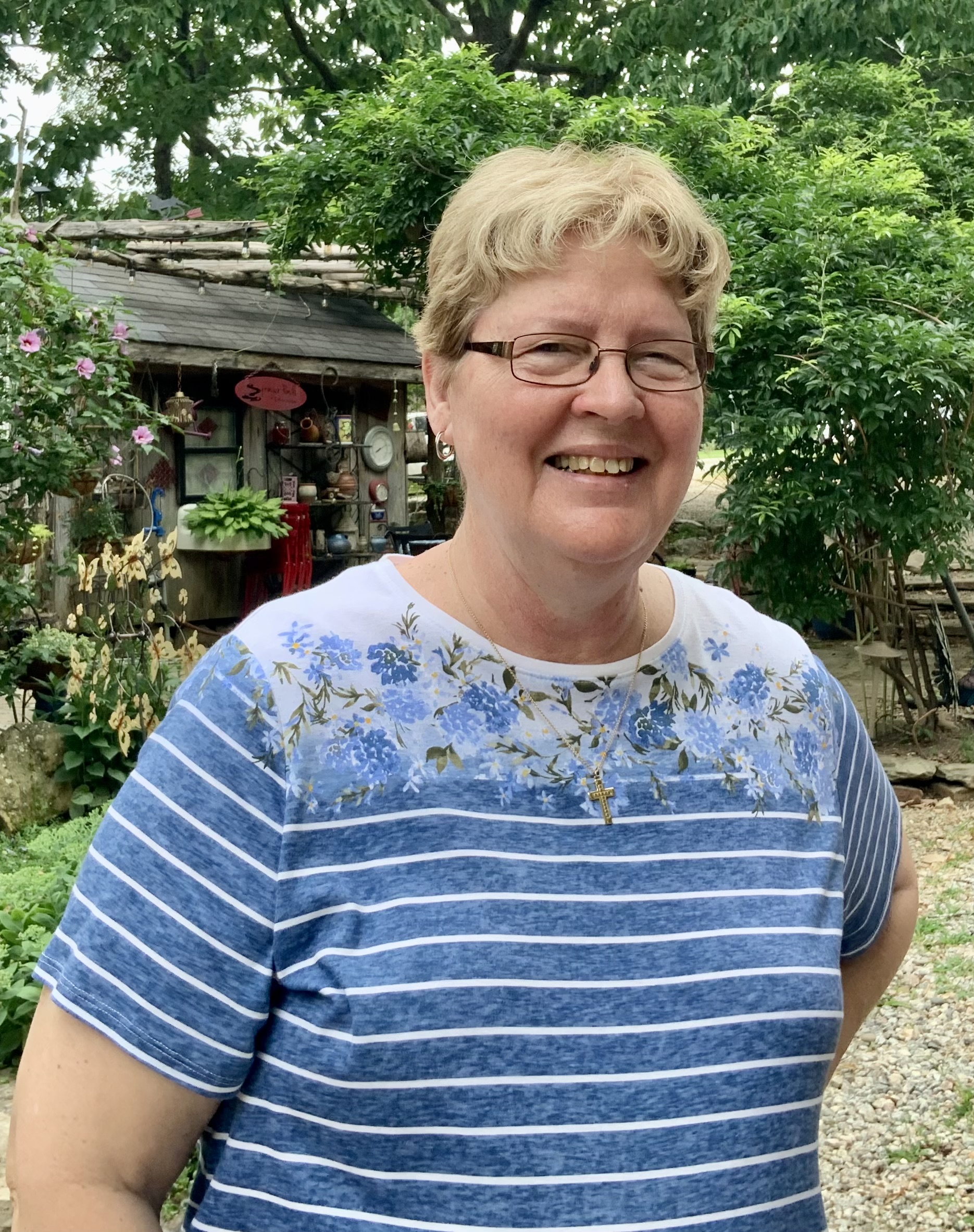 Mrs. Faye came to us at the end of last year.  She was like a Christmas present.  We are so blessed and grateful for all of our staff.  But the position of Office Manager stands out over the rest (sorry guys).  Mrs. Faye keeps us straight and that is no small task. She is truly a beautiful person with a kind heart. When it comes to business she is all business.  We can't be more pleased.  If you need anything from the crew, Mrs. Faye is the best route to take.  I honestly don't know what we would do without her.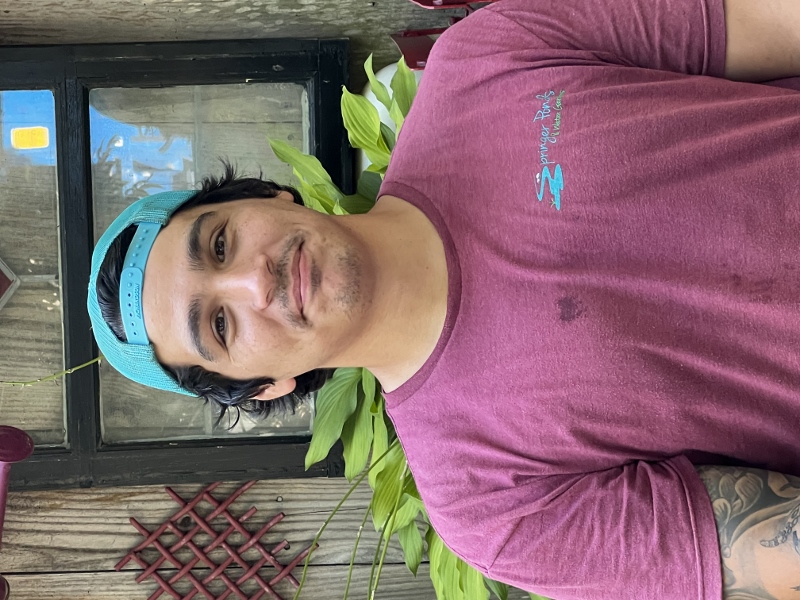 Corey
How lucky we are to have such wonderful team mates.  Corey is a fairly new addition to the build crew, but growing more invaluable daily.  As with all of our crew we cross train in all aspects of the pond business.  Corey is eager to learn and is always smiling.  That seems to be the theme at Springer Ponds.  I love it!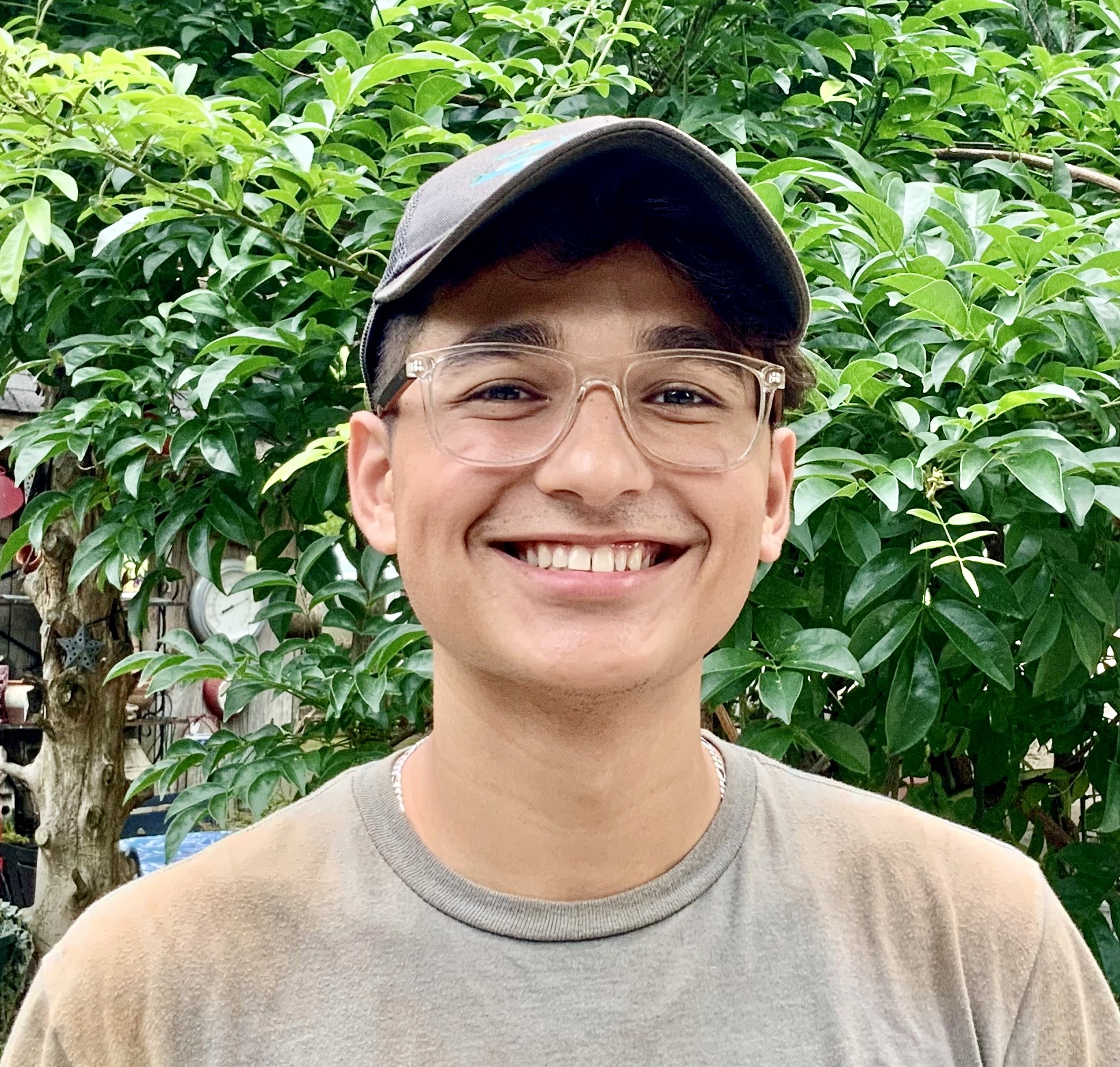 Daniel
Rising Star!  Daniel is a great teammate.  We are thrilled to have him working with us.  He is always energetic and eager to learn.  Daniel is working with our build crew.  Before we know it he will be a better machine operator than I am.   Additionally, he has a smile that never stops.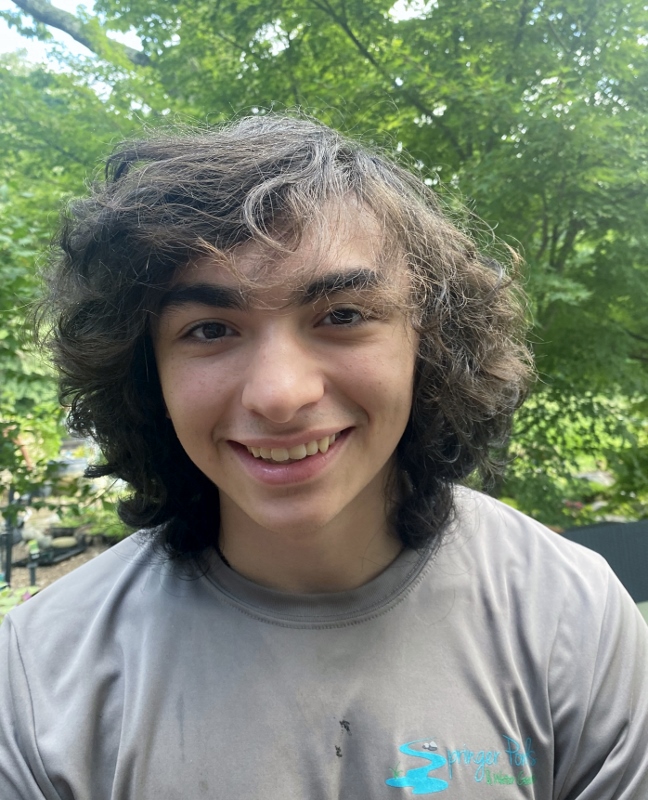 Jaden
Another energetic and eager to learn young man.  We are so proud of our teammates.  The creativity and can do attitude are the perfect pair for this job.  And Jaden doesn't disappoint.  To top it off he has another one of those smiles that goes on for days.  It is a pleasure to work along side all of these gentlemen.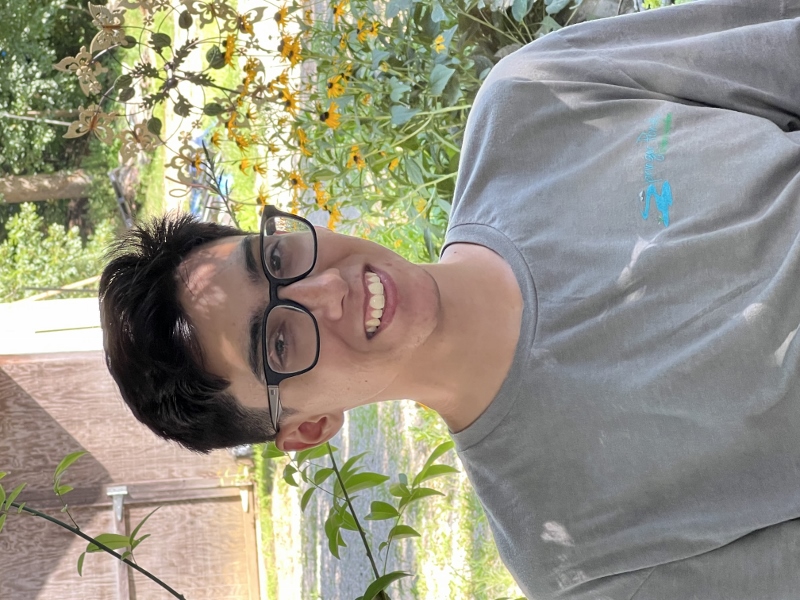 Tom
If you have had maintenance performed by Springer Ponds then you have most likely encountered "Tom & Jerry".  The dynamic duo have certainly made an impression with us as well as with our clients.  Tom is a fantastic addition to our maintenance crew.  We are impressed daily as we learn more of his skill sets and interests.  I can't wait to see what these two are capable of.  I wonder if we should get them capes.
see what our clients are saying about us
Testimonials
Saundra and her team were referred to us by a friend who had a pond built for them. Once we met with her we were impressed with her knowledge and especially her passion. When she fist started the pump to the waterfall we were blown away with excitement. She certainly exceeded our expectations!

– David Hausfeld
Saundra is easy to work with and is very knowledgeable about ponds, fish, and plants. There is nothing better than sitting on our porch listening to the waterfalls and watching our fish. I can't thank you enough for the paradise you created for us.

– Kimberly Smythe
Springer ponds recently put in a pond for us. It is absolutely gorgeous! The waterfall is phenomenal. The water is crystal clear. The koi are thrilled with their new home. We are extremely pleased with the personal attention and continuous service. The only problem I have with the pond is I cannot get my husband to come in from the pond at night:-) I must admit that I also have a difficult time leaving the pond. Thanks Springer Ponds.
-Dee Skinner
Springer Ponds is your best choice in water gardening care, hands down. Saundra and her team are extremely knowledgeable, dependable and will ensure your pond is at its best. They tackled my 15-year old pond that had never been cleaned (!) and turned it into a brand new fish haven with crystal clear water and new tunnels and niches for my now, very happy goldfish. She also moved plants and created better water flow on the waterfalls which dramatically improved the overall esthetics of the pond and a much better sound for my backyard zen. She also installed an automatic fill so I don't need to worry about the pond's water level when I'm away. I couldn't be happier with their work and the wonderful improvements they made!
– Interested Party
Three years ago we knew we wanted a water feature but we weren't exactly sure where we wanted it or what we wanted it to look like. Saundra picked the perfect location and designed a unique waterfall and pond that we are very happy with. She continues to help us maintain it, we highly recommend her services.
– Carolyn Snyder
I am still overjoyed to have Springer Ponds working with me to help maintain my water feature. They give me confidence and ALWAYS MAKE THEMSELVES AVAILABLE whenever I contact them. They excel in educating me as to the care required for my water feature, and their very affordable quarterly maintenance plan keeps everything flowing beautifully year round.

A little background – I moved into a property with a water feature and needed to learn all about it. Saundra Springer and her team were very responsive to my initial request for education and diagnostics of my 5 tier pondless waterfall. It was then I came to understand Saundra Springer's life-long passion for ponds. Her careful inspection took the mystery out of the equation. And she has been my go to person, always making time to answer any concern I have via email, phone, or just recently via comments on Facebook.

In preparation for Hurricane Florence, Saundra created an extremely helpful short video checklist regarding basic concerns pond owners may have during a storm which she then posted to FACEBOOK. It got me thinking and I had a question so I posted it in comments on her FB page. She was not only very responsive, she was also very reassuring during a stressful time.

Give Springer Ponds your business, YOU WILL BE VERY HAPPY YOU DID!
– Lani Chaves
Saundra was so patient with me as our pond was an ongoing work in progress! My swim pond and my fish pond make we so happy every single time I look at it. When my friends see it they are amazed at the waterfalls, bog and the design! Don't hesitate to use this company!
– Pamela Gardner
Our pond looks the best it has since it was redone 2 years ago!! The price for all of the work they did was very good. The expertise and quality of the work done by Saundra Springer and her crew is by far the best we have had done. She will make sure you are happy with the work, but more than that, she must be happy. She will not stop until she is satisfied too. Very, very good company if you have a pond. Our koi have not been happier!!
– Patsy B.
Thank you so much for everything! You're work is absolutely amazing and it's such a pleasure dealing with a real, honest professional! I will glady refer anyone I know to your company!
– William Black
Saundra and crew went above and beyond. The pondless is "a work of art" with a Lighthouse and even with a working light a top. Best feature is a custom Light house keeper silhouette. The price was fair, quality was top notch and crew was professional. Highly recommend.
– Suzanne Wiggins
A very special professional experience. Saundra's personal touch was an added pleasure to my garden.
– Mairlyn Hale
I highly recommend a knowledgeable owner and staff…a sensible approach to maintaining a garden, and those special prizes in them…
– Cotton Perkins
Springer Ponds is very good at what they do, Courteous and very knowledgeable,I would recommend them over all others that have used.
– Jean Gaydos
5 STARS is truly not enough stars to compliment Saundra Springer on her craftsmanship. We hired Saundra from a referral and so thankful we did as the other potential was non-responsive. From our 1st meeting over the phone to the weeks that unfolded, Saundra proved to be a perfect match for our home project. She has a wonderful eye for placement, a perfectionist and great listener. She walked all over our home to ensure that our pond would be enjoyed from every angle. Saundra & her team worked countless hours in the rain, cold and dark wearing headlamps. Saundra is also quite amazing with a pick ax ~ amazing hard worker! She kept to her timeline knowing the holidays were fast approaching. I look forward to March when Saundra comes back to plant colorful succulents.
– The Kellers
My pond has never looked better. Thank you to Saundra and her team. You always have a prompt response (returns calls within 24 hours) and fix all the problems I can create. So thank you for putting up with me and creating/maintaining a magical environment for me.
– Kimberly S.
My pond has never looked better. Thank you to Saundra and her team. You always have a prompt response (returns calls within 24 hours) and fix all the problems I can create. So thank you for putting up with me and creating/maintaining a magical environment for me.
– Jason K.
It was a stroke of luck that I found Saundra Springer. I live in Pikeville, NC and no one in the area works on ponds.
We communicated by phone, text messages, emails and photos. Because she takes the time to understand you and in my case my existing pond, she was able to bring everything needed to replace the waterfall basin, skimmer and rebuild the pond in one day.
Jerry and Andrew her helpers were polite and worked so hard. In this day and age, it is remarkable to find someone who figures out what needs to be accomplished, does it in the time promised and at the price estimated.
We attended her open house and the ponds are to die for. Springer Ponds and Water Gardens know how to host and open house.
– Pamela J.
Saundra, Jerry and her foreman extraordinaire have done such a wonderful job of taking care of our pond and waterfall! I spend so much time outside enjoying my yard and ever since they reconstructed my waterfall, it has been even more of a delight! The entire team is so friendly, they have an incredible eye – it truly is an art form. These guys pay such close attention to detail – from light placement to how different rocks and plants look together. I cannot recommend them highly enough!
– Donna E.
Springer Ponds did a great job cleaning and repairing our goldfish pond. We had neglected our pond for a few years but now it looks beautiful! They even cleaned and repotted the pond plants, something that exceeded my expectations. Very thorough and professional.
– Gretchen S.